We aren't a one size fits all sort of business.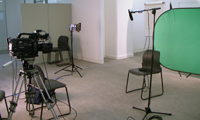 Working in TV and radio over the years we've been given a considerable number of shoestrings to work with and we've become rather good at managing budgets. We promise to make your project look much more expensive than it actually was!
We hate websites that demand your contact details before they'll divulge any prices so here are a few figures - but only a few as each project or series is a one off. Suffice it to say that we have worked with budgets in the tens of thousands for an online series or a TV ad but don't be put off by the noughts... We have produced some of our best work for under £1000.
Email or call us on 0845 25 75 170 if you'd like to chat through ideas for a project - big or small - and we'll try to come up with a solution that will suit your budget.